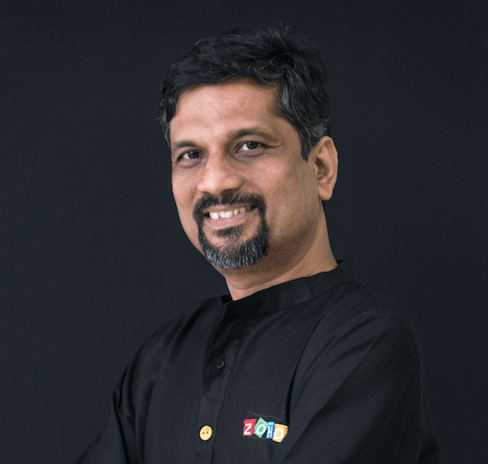 From the CEO's desk
At Zoho, our mission is to enable young men and women to achieve self-sufficiency, the goal of standing on their own two feet. We believe self-sufficiency should start at 18 (after all, you are old enough to vote at 18, why not old enough to earn at 18?). Increasingly, we find college graduates who still want to depend on their parents economically even at 23 or 25. You may come from an economic background where your parents may be able to afford to fund your higher studies or may be able to support you to get a loan. In either case, you would not have the drive to stand on your own two feet, and you would not be happy at Zoho, which has a totally different value system. So ask yourself Would I be comfortable depending on my parents economically after college? If the answer is yes, Zoho would be the wrong company.
We think differently about people. We don't look at credentials, like degrees, grades, or marks, when we hire. We have seen no evidence that this correlates in any way with performance on the job in any of the areas that count: like creativity, initiative, or the doggedness needed to master something over time. This has influenced everything in how we hire, manage, and develop people. In fact, we dont ask you if you have earned your degree and we don't mind even if you have arrears history or even standing arrears. We allow people to take risks. We let people explore areas where they have no prior experience, let alone expertise. We allow people to fail. They have opportunities to redeem themselves, often by trying something completely different.
Just as we provide the flexibility to make people successful, regardless of paper qualifications, we expect our applicants to come to Zoho for the right reasons. Don't come here if your goal is to put in some time before you set off for an advanced degree like an MBA or an MS. That is inconsistent with our beliefs and you will not be successful here. Come here to pursue a higher education on the job, rather than to mark time before you leave to seek it from a university. Zoho will not assist you in seeking an advanced degree. In fact you are depriving someone who would benefit more by staying and growing with us. We are loyal to our beliefs in developing people and we expect our applicants to see Zoho the same way.
We hope to meet you soon at our office :)
Good luck!